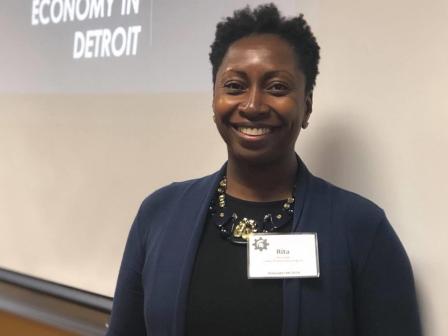 EDA University Center at Michigan State Bridges Gap Between Academia and Economic Development Practitioners
The EDA University Center for Regional Economic Innovation (REI) at Michigan State University connects economic development practitioners in the state's underserved communities to much-needed resources and technical support.
As one of EDA's 69 University Centers nationwide, REI is a laboratory of change where researchers are developing new innovative tools, models, policies and programs that help local leaders generate job creation and boost economic development – especially in Michigan's distressed communities.
The research work doesn't stop in the Ivory Tower. REI partners with local communities – from urban cores to rural areas – to learn about their challenges and test new ideas.
"This is the type of experimentation that institutions of higher education are equipped to do,' said Rex LaMore, director for MSU's Center for Community and Economic Development, which houses REI. "We test ideas. If we are successful, hooray, let's spread it around. If not, we ask what we learned."
REI's Innovation Fellows program is one way that REI connects academic assets to Main Street. The program identifies change agents in local communities to support their research on an issue, challenge or potential economic development tool.
"The Innovation Fellows is really a recognition that change happens at the local level," LaMore said.
The Underground Economy
Rita Fields, a 2018 Innovation Fellow and University of Michigan professor, explored Detroit's underground economy, which is comprised of "off the books" businesses that contribute to job creation and millions of dollars in local economies across the country. Her work has helped create awareness about the challenges of this subset of entrepreneurs and small businesses.
"Frankly, the barriers and cost of trying to go legitimate can be significant," said Fields, who also is an entrepreneur. "Some people don't have the expertise or social capital. They might not have the technical acumen to get QuickBooks so they have most of their receipts in a shoebox. When you're just starting out as a business, you might not know you need it. That takes time and intentionality."
The challenge is that most resources – including programs offered by government, community groups and banks – that would enable businesses to grow and scale require paperwork and documentation that many small businesses just don't have.  
"There are millions of dollars for entrepreneurs, but when you look at the requirements, it's really not for everyone," Fields said. "It's for businesses in a certain state of preparedness. It's rather exclusionary."
Fields hopes that her work helps change the mindset of those running entrepreneurial programs and eliminates the stigma of being "off the books" businesses.
"If you are really hustling and trying to feed your family, you're working around the clock," she said. "A lot of the requirements for entrepreneurship programs are tone deaf to the requirements of actually working as an entrepreneur."
Investing in Communities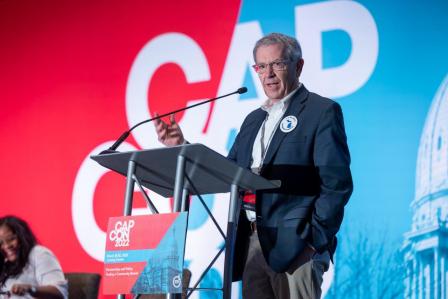 Chris Miller, a 2021 Innovation Fellow and former Adrian, Mich., economic development coordinator, developed a plan to expand "Community Capital" projects in the state. Community Capital is money raised from individuals to support projects and businesses in their own community.
"Investment crowdfunding or a community investment fund could save a downtown and make a community more resilient," said Miller, a founding board member and current board chair for The National Coalition for Community Capital.
The investment model not only bolsters local economic development, but also builds wealth among individuals who don't typically have opportunities to invest. Investments can be at any level and the individual receives a return on their investment.
"This helps communities build wealth and resilience, and ownership in communities, especially in distressed communities that have not done well in the existing capital structure," Miller said.
As part of his project, he identified local champions who have been involved in donation or investment crowdfunding campaigns. He helped them build local investment teams, provided technical assistance, and helped launch new Community Capital campaigns. 
Currently, Miller is working on a project that collects crowdfunding data to show how Community Capital projects impact community development. Results are expected this fall.
"Nobody has looked at this data before," Miller said. "There hasn't really been scholarly work looking at this."
The project is led by MSU seniors working on their capstone project. Miller said the project is helping train the next generation of economic development practitioners.
"These college students are going to be the ones who change the world," Miller said. "I want them to know about this for when they graduate and move on to work in communities."
'Innovation Fellow for Years'
REI has supported 16 Innovation Fellows since the program started in 2016. Terms last for one year, but the University Center often taps these individuals' expertise for years to come.
"We call upon them beyond their year of service. They become an Innovation Fellow for years," LaMore said.
Each year, REI holds the Innovate Michigan! Summit to bring together their stakeholders and showcase the work of their fellows. Innovation Fellows are also encouraged to partner with EDA Economic Development Districts (EDDs).
"Our first audience is the districts, of course," LaMore said. "EDDs are key partners in our process. We reach out to other stakeholders, but the first seats are reserved for EDDs."
For more about the EDA University Center for Regional Economic Innovation (REI) at Michigan State University, visit: REIcenter.org
For more about EDA's University Center program, visit: eda.gov/funding/programs/university-centers