EDA Looks Back, And Ahead, At The American Rescue Plan
On the first anniversary of the American Rescue Plan (ARP), President Biden noted that, "Few pieces of legislation – no hyperbole – in American history have done more to lift this country out of a crisis…". A year later, the sentiment not only continues to ring true, but has even more evidence to prove it.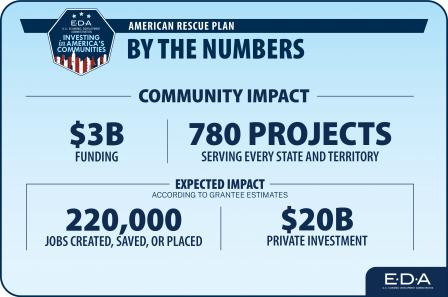 This groundbreaking economic development opportunity required the U.S. Economic Development Administration (EDA), its partners, and most importantly, leaders across the entire economic development community, to take transformational and expeditious action. Through unprecedented levels of collaboration, we demonstrated that place-based, regionally-focused economic development works. We met the moment, and we will continue in the years ahead. 
Now, at the two-year anniversary of ARP, we are more inspired at the commitment – not just at EDA, but across the entire federal government – to invest in the people, places, and potential that power America's economic success. 
By the numbers alone, we can see that EDA's work implementing $3 billion in investments across America made a fundamental difference in our nation's recovery. Through nearly 800 strategic awards, we helped create or save an estimated 200,000 jobs.  
But it's the stories of real impact in Americans' lives that are the ultimate indicators that ARP – and EDA's role in implementing it – succeeded in getting our country back on track, and ready for a new chapter of opportunity. 
How We Did 
I had the pleasure of talking with Forbes about our work at EDA and my reflections on our efforts to make the American Rescue Plan as impactful as possible for the economy. In that interview, I shared how the $1 billion Build Back Better Regional Challenge was the marquee of EDA's American Rescue Plan suite of programs. The application process gave communities an opportunity to share their best ideas and strategies designed to help rebuild American communities, including some that have been grappling with decades of disinvestment.  
Hundreds of worthy applicants submitted project proposals to develop or scale industry sectors, train the workforce of today, and build resilient economies. The applicants emphasized the importance of methodically addressing the unique needs of a region, and of the power of partnerships between the private and public sectors — so much so that we saw more than $20 billion in private investment reach American communities because of this program. 
I also noted our $500 million ARP Good Jobs Challenge and how it plays a pivotal role in helping communities across the country to invest in innovative approaches to workforce development that will secure job opportunities for more than 50,000 Americans. We are excited that President Biden has included $100 million in his Fiscal Year 2024 budget to continue this model.  
Informing How We Invest In America 
Our ARP programs were truly an investment in ourselves as a nation. Every state and territory received funding and support. We did not just invest in the "usual suspects" — we prioritized equity and geographic diversity to ensure often overlooked and underinvested communities could have a shot at rebuilding and supercharging their economies. 
The same approach that helped us succeed implementing ARP is guiding us now as we "hit the road" to solicit feedback on two of our newest initiatives to create jobs and grow economies. The Regional Technology and Innovation Hub Program, known as "Tech Hubs," is an economic development initiative that will — equitably and inclusively — drive technology- and innovation-centric growth within a region to catalyze the creation of good jobs for American workers at all skill levels. For distressed communities across the country, the Recompete Pilot Program will provide grant funding to create and connect workers to good jobs and support long-term comprehensive economic development by helping to reduce the high, prime-age (25 to 54 years of age) employment gap. 
By listening to the diverse array of needs and innovative solutions across America, EDA will deliver the precise support where and how it is needed most. Quantifying and sharing what we've learned from listening is another critical element to our success. We changed the paradigm for transparency during ARP by posting all the applications we received. This helped more stakeholders identify opportunities for resource sharing and partnerships, and helped stretch the taxpayers' dollar even further by combatting repetition.  
When I think of some of the other projects ARP investments powered at the EDA — the Economic Adjustment Assistance program; the Indigenous Communities program; the Travel, Tourism & Outdoor Recreation program; Statewide Planning, Research & Networks — as well as all the initiatives we're spearheading now, the future of economic development in America has never felt brighter.  
The Work Ahead 
Through continued opportunities provided by our Public Works and Economic Adjustment Assistance Programs, Build to Scale Program, STEM Talent Challenge, coal and nuclear community support, and much more, EDA is working to make sure every community and every territory in the United States is prepared to grow the industries and jobs that power a strong, inclusive national economy. 
We continue to thank all the organizations who applied or helped spread the word about funding opportunities during the ARP roll-out, and have toted its successes ever since. The pandemic and the historic approach the Biden Administration, EDA, and our partners across America took to recover and become more resilient should serve as a model for the future.  
The plan to recue America's economy is succeeding, and now we must continue the President's mission to grow the economy from the bottom up and middle out to fortify it for generations to come. The work ahead is vast and challenging, but as the American Rescue Plan taught us: if we invest in ourselves and unite in support of one another, anything is possible!