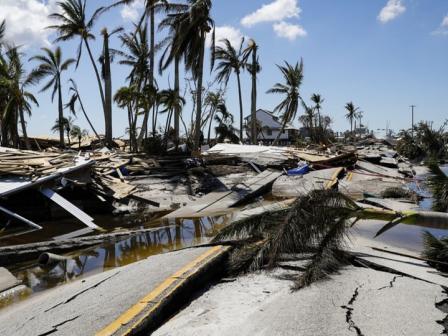 EDA Leads Economic Recovery Efforts in Florida Following Hurricane Ian
On September 28, 2022, Hurricane Ian hit Florida's Gulf Coast, bringing heavy rains and 150 mph winds. It resulted in catastrophic loss and significantly impacted communities throughout the state. The storm left more than 2.6 million residents without power. Ian's impact on the state's economy was no less intense, with insurance losses topping $12.6 billion.
EDA, which has a long history of supporting disaster recovery and resiliency efforts, was quickly mobilized to coordinate the Economic Recovery Support Function (Economic RSF) on behalf of the Department of Commerce and under the leadership of FEMA. Representatives from EDA's Atlanta Regional Office and the Disaster Support Team led a multi-agency collaboration to assist economic recovery efforts in disaster-impacted Florida communities.
Arriving on site in early October, EDA joined an Interagency Recovery Coordination (IRC) Joint Field Office for all mission-assigned federal agencies and support entities. Today, the Field Office is co-located in Lake Mary and Fort Myers. The team supports the IRC leadership and provides coordination among these agencies, all of whom share a role in the provision of grants, loans, training or other assistance to support economic recovery efforts.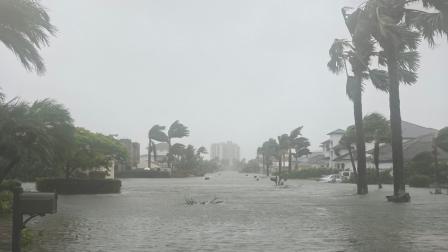 They had only just begun picking up the pieces from Ian when Florida was hit by a second deadly storm, Hurricane Nicole, on November 7, 2022. It impacted communities in East Central and Northeast Florida, adding to the previous storm's devastation.
"Florida is incredibly reliant on tourism and agriculture, two industries hardest hit by storms and other natural disasters," said Milton Cochran, Economic RSF Field Coordinator. "While these industries remain very important for Florida, our economic recovery efforts are focused on helping the state achieve greater economic diversification and resiliency through additional industries, such as advanced manufacturing, aviation and aerospace, clean energy, and life sciences. We are also highlighting those sectors tied to the ocean or blue economy, including, the fisheries, renewable energy and green tech, the ports, cruise ships, and water transportation."
The Sunshine State is already embracing new and emerging industries with EDA's support. In 2022, Osceola County, where many businesses and residents were impacted by Ian, received a $50.8 million grant through EDA's Build Back Better Regional Challenge. The award is designed to accelerate the growth of the specialized microelectronics and semiconductor industries that supply the nearby aerospace, defense, and medical industries.
As part of their mission assignment, the Economic RSF Team focused on conducting a Recovery Needs Assessment and stakeholder engagement while contributing to an Integrated Strategic Plan. Outreach efforts have included Federal Interagency Resource Exchange (FIRE) listening sessions and Economic Recovery and Resiliency Workshops, conducted in partnership with several regional planning councils.
The team is currently working with federal and state partners on efforts to align the Comprehensive Economic Development Strategy (CEDS) process with local hazard mitigation planning to achieve economic resiliency goals. They have also launched a series of virtual sessions to explore and advance "industries of the future."
"The Economic RSF Team is proud to help Florida communities as they work to rebuild better than before with EDA's support," said Cochran. "These outreach efforts are helping to raise awareness of Federal resources available across the state, including in the most economically distressed communities."
For more information on EDA's disaster recovery program, please visit eda.gov.