EDA Supports Equitable Lending Leaders
While the accessibility of credit is vital to the success and growth of small business, research shows that lending to borrowers from marginalized communities continues to lag.1  In 2020, the CARES Act catalyzed a major expansion of the Economic Development Administration's (EDA) successful Revolving Loan Fund (RLF) program. RLFs provide small businesses access to capital in the form of gap financing to grow and generate new employment opportunities with competitive wages and benefits.  Prior to the onset of the pandemic, EDA's RLF portfolio boasted a combined capital base of nearly $900 million; CARES Act recovery assistance helped grow the portfolio to more than $1.5 billion.
To help EDA-capitalized RLFs implement equitable lending practices to reach borrowers from marginalized and underserved communities, the Institute for Local Self-Reliance and  Recast City collaborated on the development of a workshop series, Equitable Lending Leaders. Backed by a $790,020 grant from EDA's Research and National Technical Assistance (RNTA) program, the first 12-session, online program launched in late 2021 with a cohort of 40 decisionmakers drawn from EDA RLF operators.
Debra Davis, a Business Development Loan Officer at the Economic Development Corporation of Kansas City (EDCKC), was one of those who participated. According to Davis, she joined EDCKC in 2019 with a mandate to help make the corporation's existing RLF more diverse in its lending practices. However, during the pandemic, much of her outreach to underserved enterprises in Kansas City's business community was severely curtailed.
"I received a letter from our EDA Economic Development Representative telling me about the program," Davis recalls. "The program presented us with an opportunity to learn new ways to achieve our goal of building greater equity practices into our loan fund."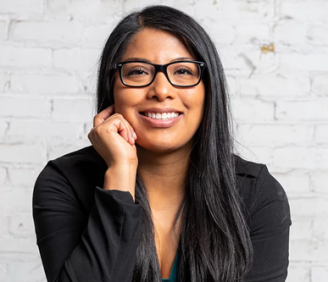 Briselda Hernandez of the Souris Basin Planning Council credits the Equitable Lending Leaders program with helping SBPC identify ways to modify its lending practices to achieve more equitable outcomes.
Over the course of six months, cohort members met for one hour every two weeks. During workshop sessions, they learned about improving the borrower experience, underwriting best practices to reach diverse business owners, and strategic marketing ideas for organizations with limited resources.
Another ELL cohort member, Briselda Hernandez, serves as Executive Director of Minot, North Dakota's Souris Basin Planning Council (SBPC), an EDA-designated Economic Development District and RLF operator.
"We decided to apply because our organization has gone through quite a bit of change in terms of its focus and how we're trying to accomplish our mission," explained Hernandez, another Equitable Lending Leaders cohort member. "One of those changes is an intentional effort at greater inclusivity."
Both Davis and Hernandez echoed a consensus of feedback received from other course participants that praised the Equitable Lending Leaders program and its quality of instruction.
"We felt this really complemented what we're trying to achieve," said Hernandez, who went on to identify how key learnings from the series are helping SBPC modify its own lending practices to achieve more equitable outcomes. "Are we requiring too many approvals? Does it take too much time? We want to identify those barriers that we're creating."
Buoyed by the success of the first Equitable Lending Leaders cohort, ILSR and Recast City plan to broaden their reach. Two additional cohorts, each enlisting approximately 40 RLF operators, are slated to occur over the course of the next year. With the evolution of public health conditions, future sessions may include in-person and hybrid options.
EDA's Research and National Technical Assistance program funds research, evaluation, and technical assistance projects that promote competitiveness and innovation in distressed rural and urban regions throughout the United States and its territories. Learn about other RNTA projects at eda.gov.
---
1. Lee, A., Lederer, A., & Mitchell, B. (2019, September). Divestment, Discouragement and Inequity in Small Business Lending . National Community Reinvestment Coalition. Retrieved July 22, 2022, from https://ncrc.org/wp-content/uploads/2019/09/NCRC-Small-Business-Research-FINAL.pdf (PDF)